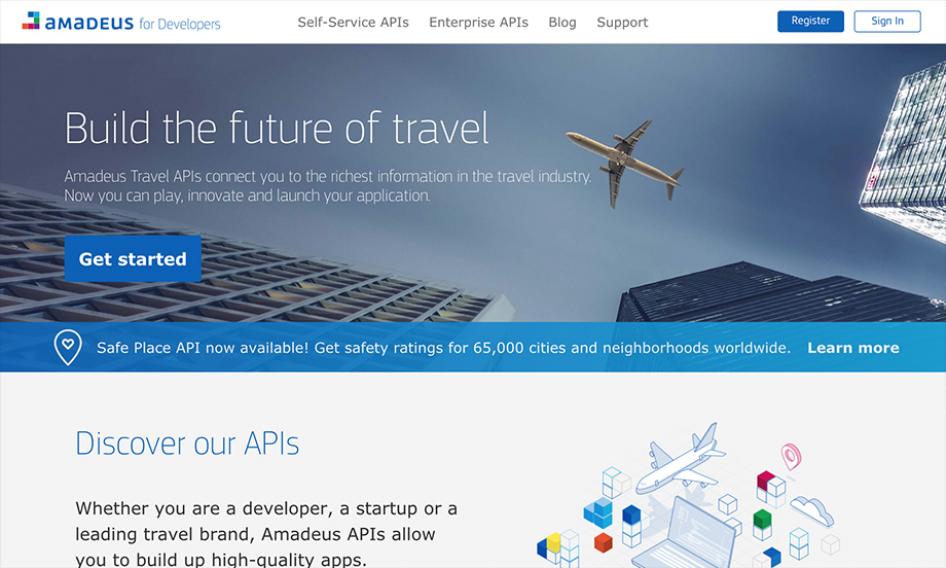 Introduction of the portal
Amadeus is a leading technology provider for the global travel industry. We offer cutting-edge technology solutions that help key players in the travel industry connect and build their businesses. Amadeus for Developers Self-Service is an open API program that makes it quick and easy to connect to Amadeus APIs and start building new solutions. On the developer portal, you can get instant access a catalog of Self-Service APIs offering travel data and functionalities for every step of the journey (from inspiration and A.I.-derived travel insights, to flight and hotel booking or information about tourist attractions or local safety) as well as documentation, guides, tutorials and more to help you get started quickly.
Why nominated
The Amadeus for Developers portal offers a full Self-Service framework to developers. Developers can access any part of the documentation
without creating an account. The Get Started, available on the main page of the portal, will drive developers through the process of creating an account, getting an API key, and start using the APIs. By default, when a user creates an account, she/he gets access to the test environment. This is a free of charge environment but with limitations (quota/subset of data). The functionalities and data provided are enough for the developers to build their solutions and even to use it with some potential customers. When ready, they can get access to the production environment by providing their payment information and signing the contract online. This process is fully automated and doesn't require to contact anyone from Amadeus. The registration is a very simple and straightforward process, with a minimum of information to provide.
The portal also includes functional and technical information. The API reference documentation offers a sandbox environment and an interactive way to test each API directly from the portal without writing a single line of code. Each API comes with ready to use examples. The API Explorer allows the users to test different queries and data for free. Moreover, Amadeus for Developers includes a support section where developers will find clear guidelines on how to contact the support team:
A link to StackOverflow for any technical questions
Email support for functional and business questions
An FAQ with search capabilities for the most common questions
The Developer Relations team is available on our Discord for online office hours and deeper discussions with the users
The Amadeus for Developers portal is also a source of high-quality developer content. The blog section contains tutorials, guides, success stories, and announcements helping the developers during their journey.
To summarize, Amadeus for Developers Self-Service provides a clear and simple on-boarding process, allowing developers to test the API without writing a single line of code in less than 3 min for free. The access to the production environment is fully automated, allowing our users to reduce their time to market. We remove all the possible barriers to make the life of our users as easy as possible. Each API has a very detailed API-reference, interactive documentation and many guides and tutorials. The Developer Relations team is providing support in various channels (where the developers are), through direct and indirect communications.