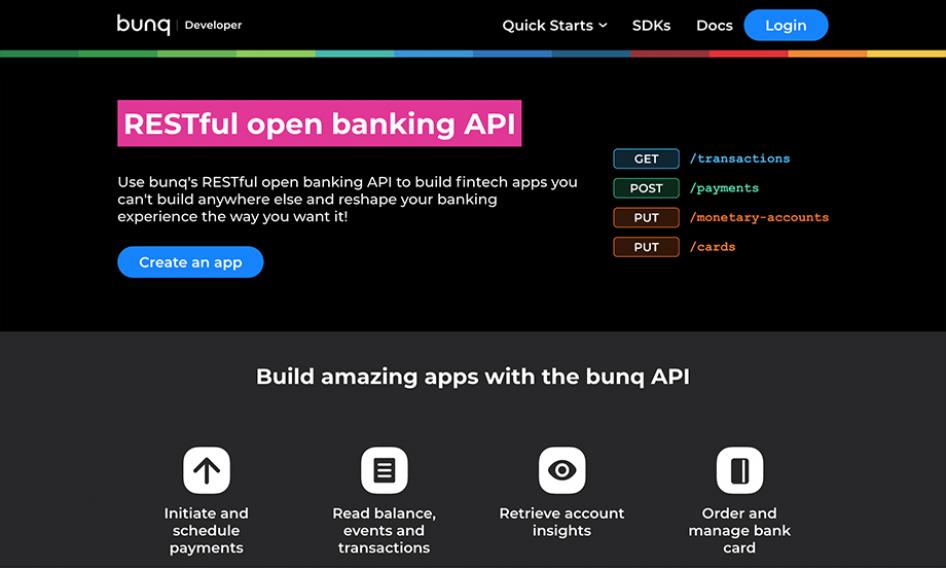 Introduction of the portal
bunq Developer is a place where you can find everything you need to automate banking for yourself, build apps for everyone, and even market fintech apps to the world!
Why nominated
Best Accessible Devportal category: Everyone can make a free developer account to easily create test users and find everything they need to test out the 200+ endpoints of the banking API, including the login credentials. No matter where you are from or how old you are, bunq Developer is open to you!
Best API Business Model category: bunq keeps it simple and transparent:
as a developer, you can access your own bank account and build your own banking! payment automation, custom savings logics, programmatic card management, web hooks are just a few things developers can do with the bunq API;
as a business, you can build an app and share it with the bunq users by submitting it to https://apps.bunq.com right from bunq Developer. bunq users learn about approved apps from social media and the app marketplace in the bunq app.
Best Community Spotlight & Outreach category: bunq deeply cares about its developer community - we know our heroes and we welcome everyone to share their ideas and experience on our forum. Our support is competent - our moderators are developers! We organise hackathons and events sheerly driven by our joint belief of building a better future.
Nominated in these categories