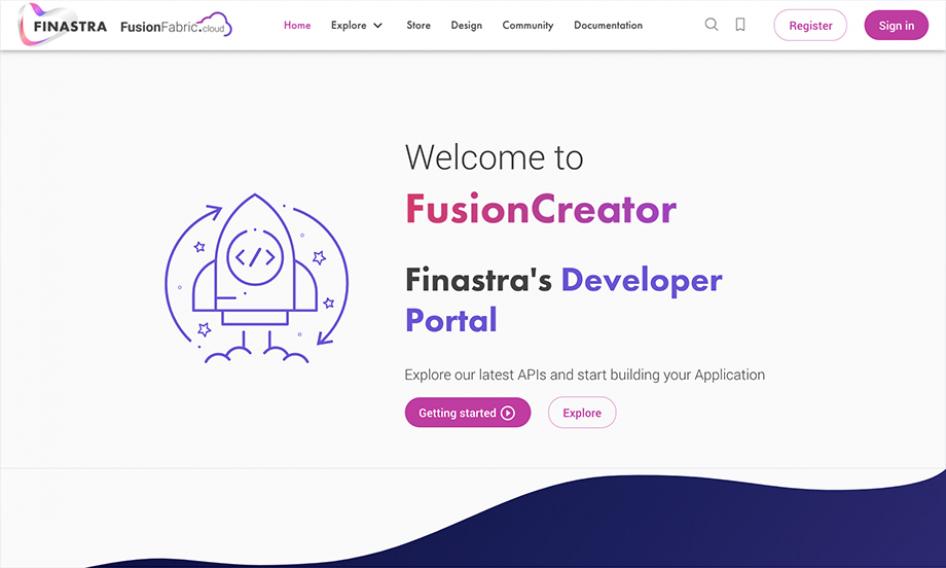 Introduction of the portal
Finastra's global developer platform, FusionFabric.cloud, is leading the way in opening up finance services and lowering the barrier of entry for aspiring fintechs and developers. Finastra is opening up its core banking systems used by 8,500 financial institutions arounds the world via APIs to drive innovation and collaboration. The breadth of the platform covers all Finastra's lines of business across retailing banking, corporate banking, lending, payments, treasury and capital markets. Having launched in May 2019, FusionFabric.cloud has over 115 APIs and has expanded capabilities to enable financial institutions to share bulk data with fintechs in a trusted manner. All documentation, tutorials and guides are public, making it easy for developers to explore the platform before signing up. Developers have already started to build with the platform to create solutions that enable AI fraud prevention, portfolio analysis, easier payments and more.
Why nominated

Best community spotlight and outreach category
Finastra believes in creating an open and global community of developers across financial services. Last year Finastra ran one of the largest fintech hackathons, Hack to the Future, inviting fintechs, startups and students to create the future of finance utilising APIs from FusionFabric.cloud. They also helped get live applications into production through an appathon which
addressed the challenges of North American community banks and credit unions. In the spirit of being open and supporting the community, Finastra regularly runs a series of meetups which tackles overhyped topics in fintech and provides educational content to all; developers, students, technologists and more.

Best Design
Finastra believes that a Developer Portal is more than a catalog of APIs. It is a platform where everyone can learn, get inspired and co-create the future of finance. The fresh look and intuitive navigation of FusionFabric.cloud is designed to provide the right documentation, tools and guidelines for both technical and non-technical users. Supporting each step of the application
lifecycle is key, making it easy for developers and fintech managers to follow up on the journey from creating to promoting their app to production in the Fusion Store. Logged-in users have also the possibility to customise the look and feel by switching from light to dark mode.

Best New DX Innovation
Finastra unlocks the potential of banks and fintechs to co-create and co-innovate the future of finance. FusionFabric.cloud gives developers the power to use complex and specific financial functionalities to create applications. Offering more than just an API catalog, the Developer Portal includes other building blocks such as Datasets, events, SPIs (Extension APIs). In addition, a Design System built for finance helps developers and designers speed the application creation. Through a set of open source design, dev tools and templates it is much faster to kick-start a new application by hacking and customising existing financial app designs and code. Fintechs and banks can deliver better experiences faster by reusing and combining existing templates, components and building blocks.
Nominated in these categories