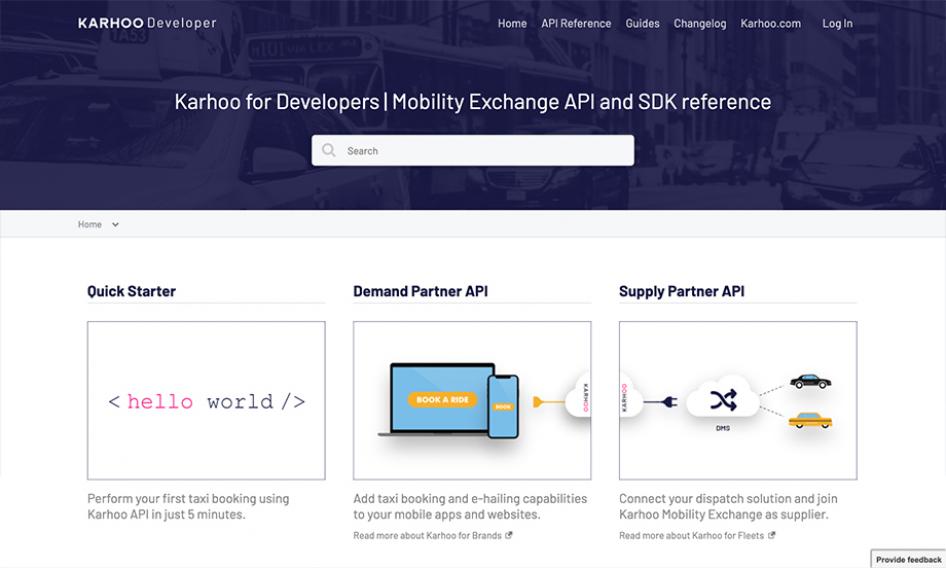 Introduction of the portal
Karhoo brings brands and fleets together to allow customers to hail and book rides straight from their preferred websites and apps.  The Karhoo developer portal is a comprehensive one-stop shop providing information to demand and supply partners on how to integrate with Karhoo's ground transportation platform.  The portal details all partner platform APIs and also explains how to work with demand web and native mobile components.  The content is well laid out with excellent integrated search and an easy way for developers to feed back with improvement suggestions.  The portal is in active use and frequently updated to reflect feedback from partners.
Why nominated
The Karhoo platform is a two-sided marketplace.  The API is therefore relatively complex as it covers a lot of functionality aimed at both demand and supply partners.  The developer portal does an outstanding job of clearly guiding different types of developers to the specific content they need.  The five minute introduction is an excellent demystifier for demand partners allowing developers to see how to choreograph API calls which can be executed and inspected following log in to the portal with Google credentials.  Web developers are provided with clear instructions on how to integrate components into demand web sites using a web flow supported by deeplinks.  Mobile developers can access a video explanation of the capabilities of the iOS and Android SDKs and how to integrate them into partner apps.  Developers interested in building a supply integration are provided with an explanation of the architecture.  In each case, links to the corresponding assets developers need to get started are provided.
Nominated in these categories