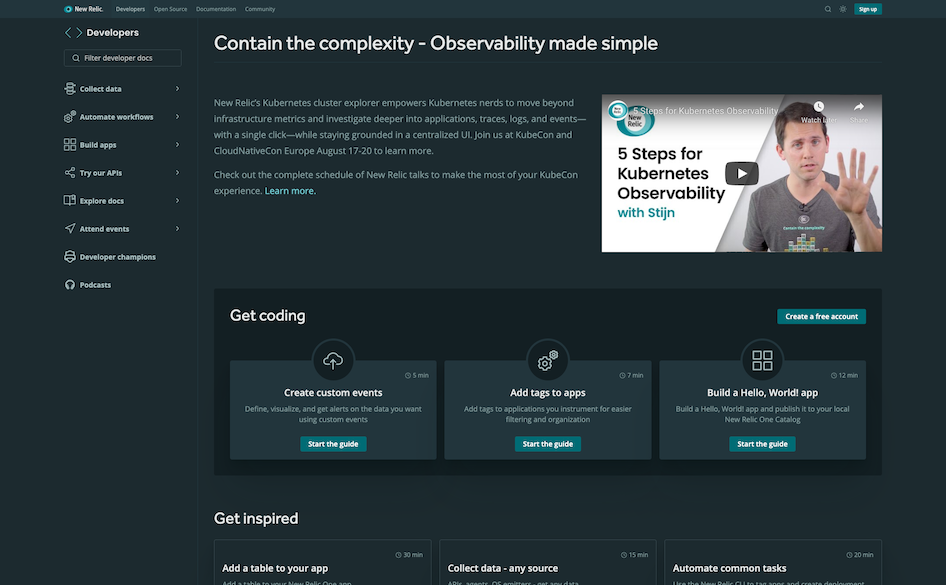 Introduction of the portal
New Relic is an observability platform built to help engineers create more perfect software by instrumenting everything, analyzing, troubleshooting, and optimizing your entire software stack. Our portal was built for developers, by developers. It is a launchpad to help developers build innovative solutions that drive real-time operational telemetry for today's digital business. New Relic's programmable observability platform allows users to gain more insight into their data through APIs, custom instrumentation, and custom applications. Whether you're new to New Relic or already a data nerd, you can start building right now with our developer and open source portals. For free.
Why nominated
For New Relic, developers are at the heart of everything we do. A developer portal is no longer just a single website with documentation. Instead, we must focus on the developer journey. At each stage, we must provide a consistent and modern experience that empowers them to not only identify the appropriate solution, but also discover and explore innovative ways to extend the platform through a collection of open source projects. Lowering the barrier to building is a high priority for New Relic. With our new free tier account, every developer is just one click away from accessing New Relic One. Not only for testing and trial, but for production use. This allows developers to take full advantage of what they build — for free.
For new users, our "Get coding" section focuses on finding answers to common questions and fundamentals. Dynamic search and filter table navigation allows users to discover information on their own and suggested content, located on the same page, offers related resources for continued learning.
For developers who are farther in their journey and already data nerds, our "Get inspired" section shows the power of our programmable platform through tutorials, in both guide and video formats, that focus on building on the platform, automating workflows, and gaining more insight to business metrics. This experience is not only within the developer portal, but also
transitions to the in-product experience, which allows users to have reference materials to guide them through their solutioning regardless of where they are.
We're constantly listening to the developer community, which also means we're always adding new tools to help reduce toil. Our robust developer
toolkit focuses on building in open source, reducing developer toil of provisioning, and aligns with open standards. Tools such as VScode extensions, telemetry SDKs and New Relic CLIs give developers the tools they need to gain more insight into their data and efficiently build custom instrumentation and applications.
We are committed to open standards, open instrumentation, and working transparently in open source. Our documentation and developer portal is powered by open tools like Gatsby.js, React, GraphQL and GitHub. In fact, the entire portal itself is an open source project! Anyone can submit Pull Requests for feedback, content, or new page suggestions for our sites. Our engagement with the community doesn't just stop with open sourcing our projects, we're also committed to a two-way dialogue. That is why we've embedded our developer-focused podcast and developer champions program directly into the developer portal experience. Our podcast focuses on conversations with community leaders such as Cloud Native Computing Foundation (CNCF), and our Developer Champions program recognizes New Relic power users who are sharing their expertise on how they are solving complex engineering problems in innovative ways. Developer Champions are our eyes and ears in the community and help us develop our roadmap for open source projects and developer portal improvements.
Whether you're a long-time user or just getting started, our developer portal has resources for you. Let's build together.