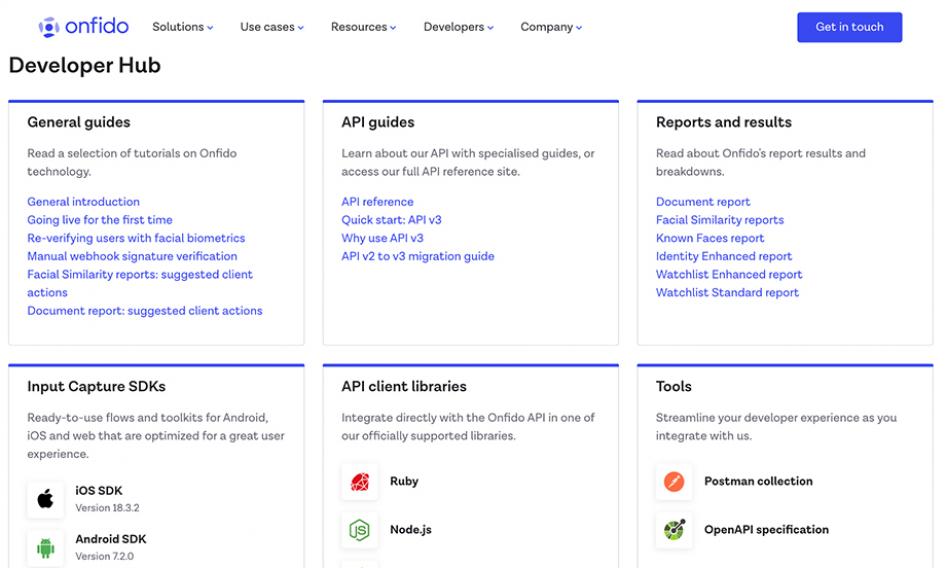 Introduction of the portal
The Onfido Developer Hub is a gateway to the technical content about our identity verification products. Frequently cited as "best in class" in developer experience by our customers, we're constantly innovating. Regularly tweaking everything from designs and information architecture to content and code examples, our simple overarching goal is to provide the best possible user experience.
Why nominated
Our Developer Hub's design is built around simplicity of access, but even with that in mind we think that the combination of visual impact and intuitive information architecture we've crafted makes our portal stands out from the crowd. Our API reference serves as a comprehensive source of technical content, with a meticulously configured information architecture. We tweak everything in the reference site—from individual best practices to notices, and provide a range of detailed code examples tested behind the scenes automatically in officially supported languages (our API client libraries are hosted separately and accessible via the Developer Hub landing page). We strive to simplify the support model for our customers, and that includes providing a straightforward entry point for as many of them as possible. With a range of guides advertised at different levels of expertise (containing for example simplified code examples in onboarding content) and with different user journeys researched and carefully considered, we believe we've crafted an exceptional onboarding experience that segues into our more comprehensive sources of information.
Nominated in these categories