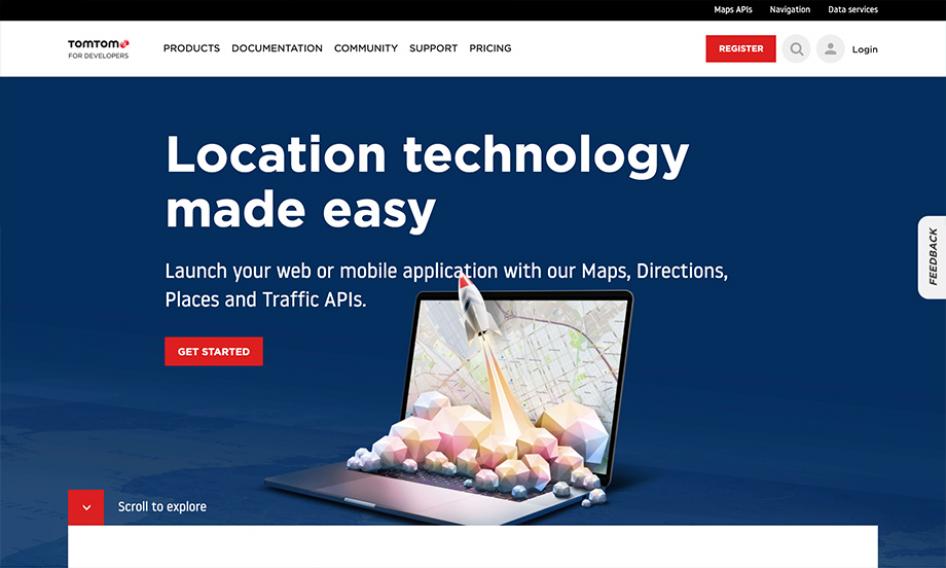 Introduction of the portal
The TomTom developer portal allows developers to build location aware applications on web and mobile through a modular set of SDKs and allows back-end applications to easily integrate the REST APIs. The TomTom Maps APIs allows applications to easily display a map, calculate traffic-aware routes and travel times and search for addresses or places. TomTom's developer portal makes it very easy for developers to get access to the APIs, integrate the APIs (with support from TomTom's tutorials and functional examples) and commercially license and use the APIs via online credit card payments.
Why nominated
Some of the most recent improvements on the TomTom Developer Portal are:
New developer dashboard where developers find an easy way to create new API keys, get help when they are stuck and get an overview of their credit and API consumption. To develop the dashboard, we initiated a DX research program to understand what concepts developers were familiar with and how we could best design the dashboard to make it intuitive for every developer (experienced or newby).
New product family pages where we highlight our unique selling points, customers and product features in a very visual and interactive way. The video scrolling panel makes it very easy for developers to understand how they could benefit in their application from using the TomTom Maps APIs.
New forum where we have established an interactive and fun environment for the community to talk to TomTom experts and interact with each other. Some gamification elements such as badges have been added to enhance the engagement. In a short timeframe, the forum has proven to be the perfect place for developers to get the support they need in a very short time. Also TomTom product managers use the forum to get feedback from developers about their APIs and SDKs.
Nominated in these categories