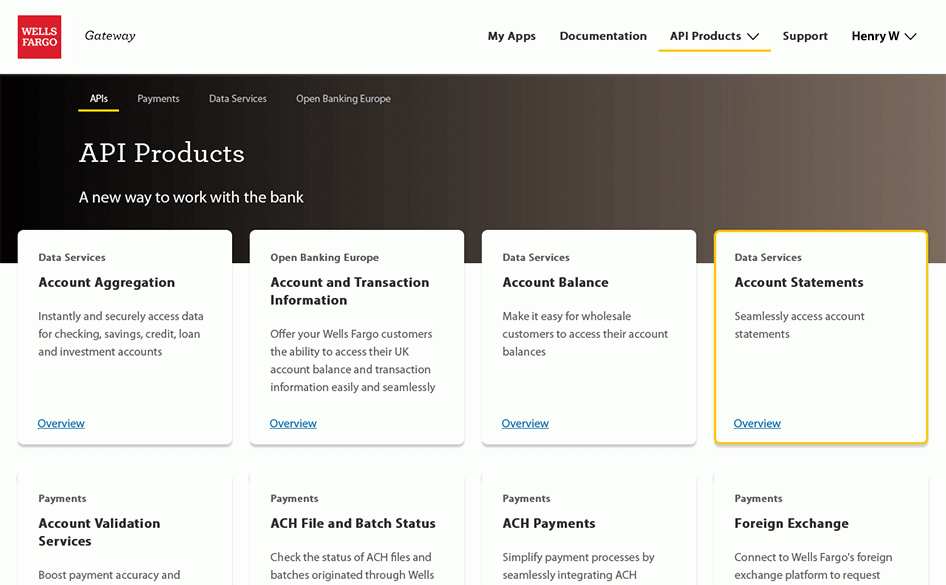 Introduction of the portal
The Wells Fargo Gateway makes it fast and easy for commercial customers and partners to streamline payments and get real time information where they need it, with our easy to integrate APIs, SDKs and webhooks. There are three primary components of the Wells Fargo Gateway developer portal:
A growing catalog of "plug and play" APIs, SDKs and webhooks
Full-featured sandbox, validation, and production environments and a documentation hub where customers can learn, test, and integrate these products
Customer support provided 24/7, staffed with developers to assist with questions, concerns, and feedback
Why nominated
Best API Business Model:
Wells Fargo Gateway was launched in 2016 as one of the first Open Banking platforms in the world. Since that time, the platform has grown to 30+ use cases with 1.5 billion API calls in 2019, which is the highest published bank based API volume globally. Over these years, we have based our development on the demands of our customers, keeping the customer at the center of all that we do. As an enterprise channel, Wells Fargo Gateway works across the bank with each line of business to build and deliver use cases. Gateway is unique amongst our peers in offering APIs across multiple financial services areas (including commercial, mortgage, credit card, and brokerage) using a single platform. The lines of business own their API portfolio, and manage use case prioritization based on close understanding of customer needs and demands. Wells Fargo Gateway partners with the lines of business to streamline the build process, develop new enhancements, and maintain a best-in-class developer experience.
For developers, Wells Fargo Gateway offers an easy-to-navigate site with pages on each API product, including a description of functionality, listing of benefits, sample use cases, and a UI mockup. We also offer a summary page with tiles on all APIs. With just a few clicks, users can "Get Started" with access to documentation and begin testing.
Wells Fargo Gateway is committed to simplifying and streamlining the integration experience. We have created API standards in the market that are focused on eliminating complexity for customers. We are accelerating time to revenue by offering Software Development Kits, and partnering with third parties to ensure a seamless and secure experience. We are excited to be
driving forward the transformation of financial services.
Best API Reference Documentation & Support:
Each of our portal product pages provides everything in one place (an "all-in-one" page) per API. That includes API descriptions, headers, timeout values, fields, test cases, comprehensive error codes, code snippets in six languages, and a Swagger document available to download. Additionally, regular release notes summarize and inform customers of new and enhanced features. The Gateway sandbox offers customers access to a set of test cases that cover positive and negative scenarios that enable them to prepare the code on their own system.
In order to further meet our customer needs Wells Fargo Gateway developer portal supports several features:
FAQ section provides customers with a repository of responses to commonly asked questions and is updated in-line with the enhancement of product features.
A free-form 'Contact Us' form allowing customer to submit their questions or feedback.
Customer Support team available 24/7 globally across all time zones. Over 70% of customer support requests have been resolved by the first customer support representative engaged.
Best Design:
UI design is a key component of Wells Fargo Gateway developer portal. Our developer portal represents a superior user experience reflecting key industry design principles:
Streamlined site architecture and navigation to better serve users discovering our APIs and products pre-auth.
Responsive design supporting different usage scenarios and three breakpoints – mobile, tablet, and desktop.
A distinct brand identity, in harmony with the channel's brand and specifically tuned to developer needs. Post-auth design focuses on tools for developers, with branding elements fading into background (i.e. removed imagery), content is arranged in three columns representing API documentation menus, reference content, and code snippets, making it a truly developer friendly experience.
Designed and developed with keeping accessibility needs as a principle of design.