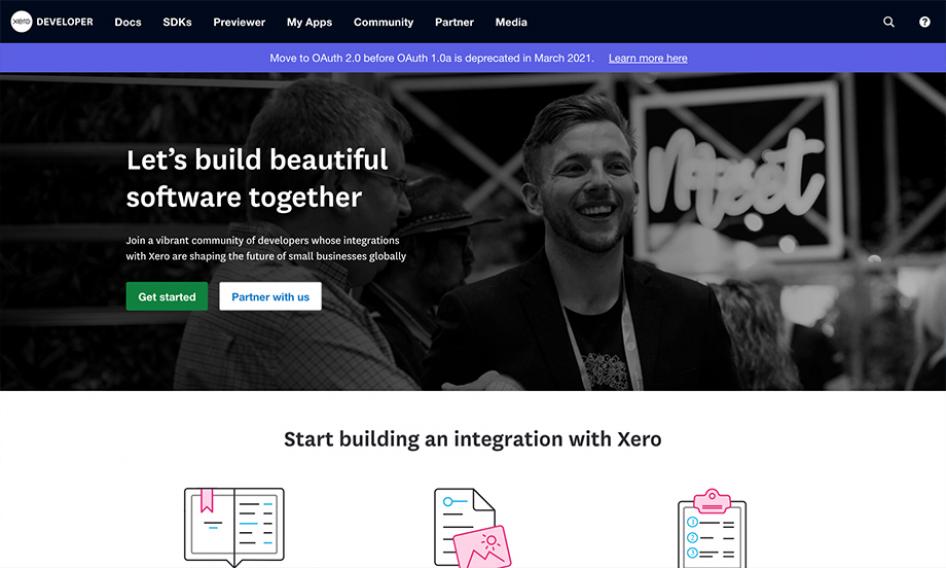 Introduction of the portal
Our mission at Xero, is to be the most insightful and trusted small business platform. We believe that if we do this, we will make life better for people in small business, their advisors, and communities around the world. But we can't do this alone, and partnerships play a key role in helping us connect our customers to a vibrant ecosystem of the best software and financial services in the world. That's why Xero's ecosystem team is focused on building a network of innovation for small businesses and their accountants, all over the world. And our Xero Developer centre plays a critical role in enabling this vision, by attracting and accelerating third-party innovation on the Xero platform and improving the content, tooling and experience at every stage of the journey, for the 70,000-plus active users of our open API and 800+-strong community of app partners.
Founded in 2006, Xero launched its app ecosystem in 2008. We were the world's first small business platform with an open API and over a decade later, we've continued growing as a small business platform. Xero has more than two million global subscribers, who can access our partners' solutions via Xero's app marketplace, and we've provided hundreds of SaaS partners access to multi-million dollar businesses. Partners like A2X have said: "Our business simply wouldn't exist if it wasn't for Xero." 
Our Developer Centre can be found at developer.xero.com. It's been designed to set developers up for success, and support them at every stage of their integration journey with Xero. It can be broken down into three key areas:
1) Developer resources: Guides and documentation 
This is where developers can find all the resources they need to successfully build and scale an integration with Xero. It includes Xero's developer documentation, sample code, and our collection of how-to guides to help readers understand the Xero API and learn how to build integrations to our vast catalogue of business and financial endpoints. We also detail our collection of open source SDKs in six of the most popular programming languages. We're a big believer in the power of community and we help developers connect and collaborate in our community area.
2) Integration management 
The "my apps" portal on developer.xero.com gives our developer partners and app partners a central and secure place to create and manage their Xero Integrations. They can create new apps, manage their Xero app marketplace listings and use our API previewer to explore our APIs. They can also leverage our API history app to troubleshoot and check the health of their integrations.
3) Marketing: Go-to-market and partnership support
Once developers have created an integration with Xero, we want to ensure they succeed. Our developer portal has all of the information developers need, to certify their app with Xero, become an official app partner and launch in Xero's app marketplace. We also have a number of go-to-market guides, that include advice on everything from getting the most out of a Xero partnership, to writing great content.
Why nominated
BEST OVERALL DEVELOPER PORTAL
Mature developer portals excel in UX & DX from both an internal and external angle. They take care of the authoring experience, enable a fast first API call, have an active community, provide a personalized experience upon login, perform well regarding self-service for both novices and experienced users, offer relevant docs for decision makers and developers, innovated how to present and consume content, promote interactive materials, share code examples in multiple languages redundantly, and ensure that the chosen environment takes the utmost care of differentiated audiences.
Developer.xero.com is designed to set developers up for success, integrating with Xero and driving innovation at every stage of their journey. Here's what we think makes our developer portal stand out: Enabling developers to get up and running fast.
We're laser focused on helping our community realise the power of our platform and the potential building to our open API offers. Time to first call (TTFC) is one of the guiding metrics we use to gauge how well our team is doing against our objectives. We're proud to report ours is consistently under five minutes. We achieve this competitive result by optimising all three areas of the Xero Developer Centre: Our guides and docs, integration management, and marketing sections- to build a beautiful and simple path to success on the Xero platform. We have put in place a number of measures to ensure that browse to build time is as short as possible, and we put in place a number of measures that ensure this: Existing Xero users can create a developer account and start creating API tokens using their existing Xero credentials, then immediately make calls against our APIs using our API previewer or SDKs.
Developers can also use the Xero demo organisation to work against so they don't need to risk live data when building an integration. The demo organisation is pre-populated with test data to make integrating a more realistic, real-world experience. We have  all of the resources and support covered at the right time. We have an actively engaged, and growing developer community, and provide them with a vast catalogue of support content that's relevant for novices through to experienced developers. This includes extensive how-to guides, a collection of open source SDKs in six of the most popular programming languages and example code, freely available to assist developers to find the resources they need to make the most of Xero's API. We connect those developing on our platform to the Xero developer community on Stack overflow, and also have a library of video tutorials and blogs.
The human touch is really important to the success of our community and we have round the clock global technical support available to help our integrators throughout their journey.  If a developer chooses to certify their app with Xero, one of our developer evangelists (DEs) will personally review their application and take them through a process that includes demoing, reviewing and pilot testing.
Platform thinking drives everything we do. We recently migrated to an API-first content management system - Contentful - to further support our growing platform. To make the right info easy to find, we split the Xero Developer Centre into key value streams - awareness/marketing, guides & documentation and integration management - and built a scalable set of integrated services that enable Xero teams to easily and efficiently deliver more targeted and supportive content and tools for our audience across their journey. It also makes life easier for internal-teams to self-service. According to James Burton, Xero Ecosystem Marketing Manager: "Publishing and drafting content to Developer.xero.com via the new portal  is easy and quick -  which makes a huge difference when you are a small team with multiple projects." We want to provide a seamless experiences for users. Developer.xero.com is a responsive portal that supports multiple browsing experiences.
Accessibility is a key quality metric we monitor and we assess all publicly available content for readability to ensure it's easy to digest. We leverage Xero's own UI pattern library to deliver beautiful, consistent experiences at scale across the Xero platform. The site features automated SEO,  accessibility and page performance monitoring. In addition to promotional banners, our in-product notifications capability helps Xero teams inform and support API users on key initiatives.
Easy onboarding. Our onboarding experience articulates the scope of our API, profiles the Xero customer and guides developers through first integration, to certification and becoming an app partner. This enables internal teams to own integration channels so they can support and speak directly to target audiences and accelerates time to market, making it easier to communicate the ecosystem
brand and proposition.
Our roadmap is freely available. To create transparency and engagement from the community, our roadmap is publicly available here. This is driven by developer feedback,  feature requests and Xero's Product goals. Our roadmap has three core themes:
New API functionality: We're continuously investing in new and existing APIs to extend the depth and breadth of the developer platform.
Platform enhancements: Making the API gateway more flexible, powerful and developer-friendly.
Developer experience: Improving tools for developers to make building, testing and running apps a beautiful experience.
BEST COMMUNITY SPOTLIGHT & OUTREACH
Community means everything to us here in the Xero ecosystem and here's how we inspire, engage and bring our community together through our portal.
The face of our API: Our team of developer evangelists (DEs) are affectionately seen as the "face of our API". They are a group of passionate technologists who care deeply about the success of our developers and app partners, doing everything from speaking at meet-ups to onboarding new apps in the Xero app marketplace.
Bringing our community together with events: We run an annual global developer roadshow, XD, where our community of developers from all over the world can work together on the future of small business technology. Last year we ran these in Auckland, Sydney, London and Toronto. It's a chance to  share our vision and roadmaps and for our community to connect with ecosystem leaders and our team. Whether attendees are already developing with the Xero API or curious to learn more, these global events in partnership with AWS offer insights, tools, and inspiration to help build new products and grow innovation.
We weren't able to hold the event this year due to COVID-19, but we did kick off a virtual marketing bootcamp, to help app partners unlock their full potential and discover the power of marketing with a free four-week program. Our annual Xerocon events also give our app partners a chance to exhibit to forge relationships with accountants and bookkeepers, to gain new leads and get a pulse on the software needs of their users. This year we're changing tack and running Xero on Air, to ensure we're still connected with the community.
Helping our community succeed:  We want to inspire innovation in our community, and we've featured some of the world's most successful software platforms in a dedicated podcast. Listen to it here.
We also want to help get our partners' solutions in front of as many potential users as possible - because we know that when small businesses use the right technology they are more successful. Each month we showcase the best and brightest apps in our marketplace, as well as up and coming solutions, with our app partner of the month feature, on Xero's blog. Guides, such as our app playbooks also help our accounting and bookkeeping partners recommend apps to help their clients unlock success across our ecosystem. And the search tool on our app marketplace, powered by Coveo, taps into machine learning to make it faster and simpler for small businesses to find the right apps to suit their unique needs - putting more apps in the hands of small businesses who need them.
Keeping our community up to date:  The community pages of our portal are where developers can turn to find answers, chat with the community and have their say when it comes to voting for the tools, APIs and endpoints they want us to build next. This also helps
inform our publicly available roadmap - which fosters transparency and engagement from the community, available here. We send a monthly developer email newsletter, which keeps our entire developer community informed on our roadmap, relevant news, events and
changes, and connects them to the latest and greatest support content so they can improve and deepen their integration with Xero to grow their business.
We use our Xero API Instagram and Twitter (@XeroAPI) to keep our community up to date and get a bit creative. Here's one example from 2019 when we created our first tshirt quilt from tshirts sent to us by our app partners, to celebrate the awesome relationships we have with them and the amazing journey we all have been on together.
Our YouTube channel is another way we engage our community with informative tutorials and fun videos, including community corner, where our developer evangelists answer questions from our community.
BEST API BUSINESS MODEL
The strength of Xero's open platform: When we opened up our API over a decade ago, we knew it set us apart — encouraging innovation, extending our platform capability, and ultimately changing the game for small businesses. Since launching Xero's ecosystem in 2011, we've invested heavily in our open platform and today provide access to more than  800 apps and 200 financial service partners.
We average 850 million public API requests per month. Our 800 app partners are able to market their solutions to Xero's two million-plus global subscribers.
It was a proud ecosystem team moment, when Xero was recently named a worldwide leader in the IDC MarketScape: Worldwide SaaS and Cloud-Enabled Small Business Finance and Accounting Applications 2020 Vendor Assessment. The report called out our open API and thriving ecosystem, providing valuable access for small businesses to add point solutions, as a key strength.
Best-in-class solutions for small businesses and their advisors: Xero's app marketplace features over 800+ third party apps that help small businesses and their advisors seamlessly run their business.  With apps that support everything from inventory and logistics to point of sale and project management, businesses have an array of options to build a customised experience. As well as certifying new apps to join Xero's app marketplace, we're actively partnering with, and building to, products our customers already use. Xero has recently built new integrations to Google, Microsoft 365, Hubspot and Mailchimp, making managing customer information more seamless between Xero and these products.
Every app to join our marketplace is reviewed personally by one of Xero's developer evangelists (DEs) and goes through a certification process, which includes demoing, reviewing and pilot testing.
Security First: We've launched global security standards. At Xero, we're committed to the security and safety of our customers'
data and hold ourselves and our partners to high standards. In the last 12 months we've developed an agreed set of security standards that will be applied across our global ecosystem by 30 June 2020, which applies to all app partners with 1000-plus connections. This ensures our apps offer a high level of security and compliance for our shared customers, which allows them to continue to associate with Xero's trust brand.
We also have a number of other initiatives that ensure security across our platform, while bringing better experiences to our customers. Sign In with Xero, provides a secure and seamless login flow that app developers can leverage to create a simple and trusted experience for small businesses and advisors. Similar to signing in with platforms like Google and OKTA, Sign In with Xero allows customers to sign into a third party app with their Xero login. Customers get a highly trusted, frictionless experience , while saving development time.
Our guiding principles: In 2020, we launched the Xero ecosystem principles. These principles provide transparency regarding Xero's platform philosophy and share our commitment to those building to the Xero API. At Xero, we use these principles to help guide key decisions and ensure the interests of our small businesses customers are central to everything we do.
Focus on solving for customers. We build, acquire and partner with our customers' best interests in mind. We believe choice benefits our customers, which means that while sometimes we may build or acquire features already available in our marketplace, we'll continue to foster a platform that enables small business customers to choose the best solutions for their needs.
Be an open platform. We welcome others to innovate with us, and will continue to invest in expanding Xero's platform capability. We will ensure partners meet a minimum set of standards, add value to our joint customers, and are aligned with our business. As we do, we will strive to minimise any barriers to third party innovation, and ensure standards are fair, and easy to follow.
Invest in our shared success. We're proud of the community we've built at Xero, and we'll keep growing our developer and app partner relationships around the globe. We're committed to delivering a platform that enables growth opportunities for our partners, with best-in-class tools, programs and support. We like working with companies who also invest in their Xero partnership, and we're committed to making that pathway clearer.
Always take a #human approach. We take a human approach to business — we believe that's what makes us different. We don't see our app partners as competitors, because we know that the more innovation and activity we have on our platform, the better it is for everyone, especially people in small business. We are committed to being transparent and balanced, providing our partners the opportunity to succeed on our platform.
Be responsible and responsive. Protecting our community is very close to our hearts. We take this seriously and are committed to protecting partner and customer data and privacy. We will continue to listen to our customers and community, and evolve our approach.