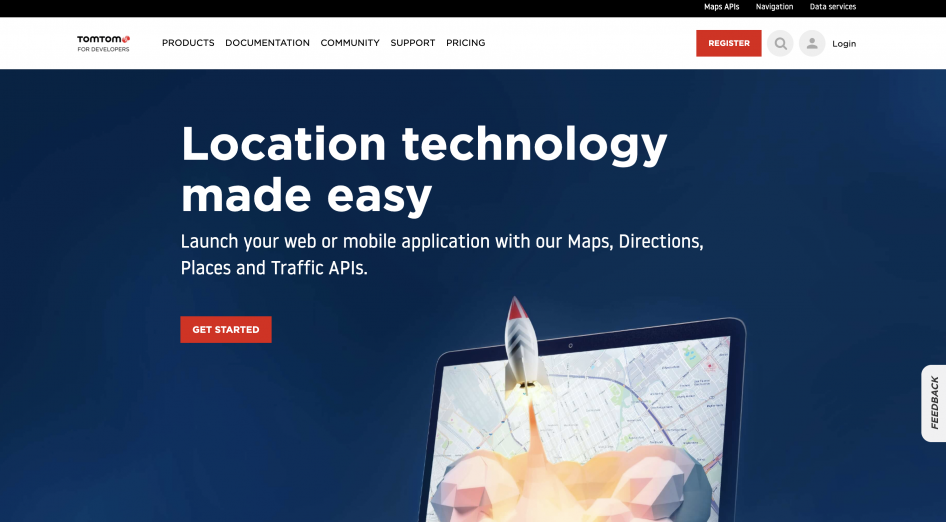 Introduction of the portal
The TomTom developer portal allows developers to build location aware applications on web and mobile through a modular set of SDKs and allows back-end applications to easily integrate the REST APIs. The TomTom Maps APIs allows your application to easily display a map, calculate traffic-aware routes and travel times and search for addresses or places. TomTom's developer portal makes it very easy for developers to get access to the APIs, integrate the APIs (with support from TomTom's tutorials and functional examples) and commercially license and use the APIs via online credit card payments.
Why nominated
The TomTom developer portal was already nominated last year but this year, the portal has gone through a set of changes top optimize the developer experience: 1. A new onboarding flow with in-field validation and guidance to complete the registration form in 1 go. The new onboarding flow also automatically provides developers with an API key so they can start using the APIs in a few minutes. More changes are coming up to postpone the email validation and use social logins. 2. A expert technical writer has been optimizing the API reference documentation (example: https://developer.tomtom.com/search-api/search-api-documentation-search…) to optimize the usability and consistency of the documentation. 3. More tools and content have been added to onboard developers more easily, such as an API Explorer (e.g. https://developer.tomtom.com/content/search-api-explorer) and tutorials (https://developer.tomtom.com/tutorials). 4. Product pages have been added to help developers understand the value and benefits of our APIs and SDKs (e.g. https://developer.tomtom.com/products/search-api).
Best Overall Enterprise DevPortal
2019