DevPortal Awards Timeline
Nomination: 1 March - 14 July, 2023 
Showcase Your Developer Portal Online Series – October 4, 11, 18, 25
Online Awards Gala: 15 & 29 November, 2023
 
Curious to discover which portals shine in 2023? Let's celebrate excellence together!
Shine a Spotlight on Your Devportal!
The DevPortal Awards celebrates the achievements of developer portals and the teams behind them. We strive to push the boundaries through recognition of trends and best practices in developer portals. The submitted portals are evaluated by an experienced independent jury who provide valuable feedback.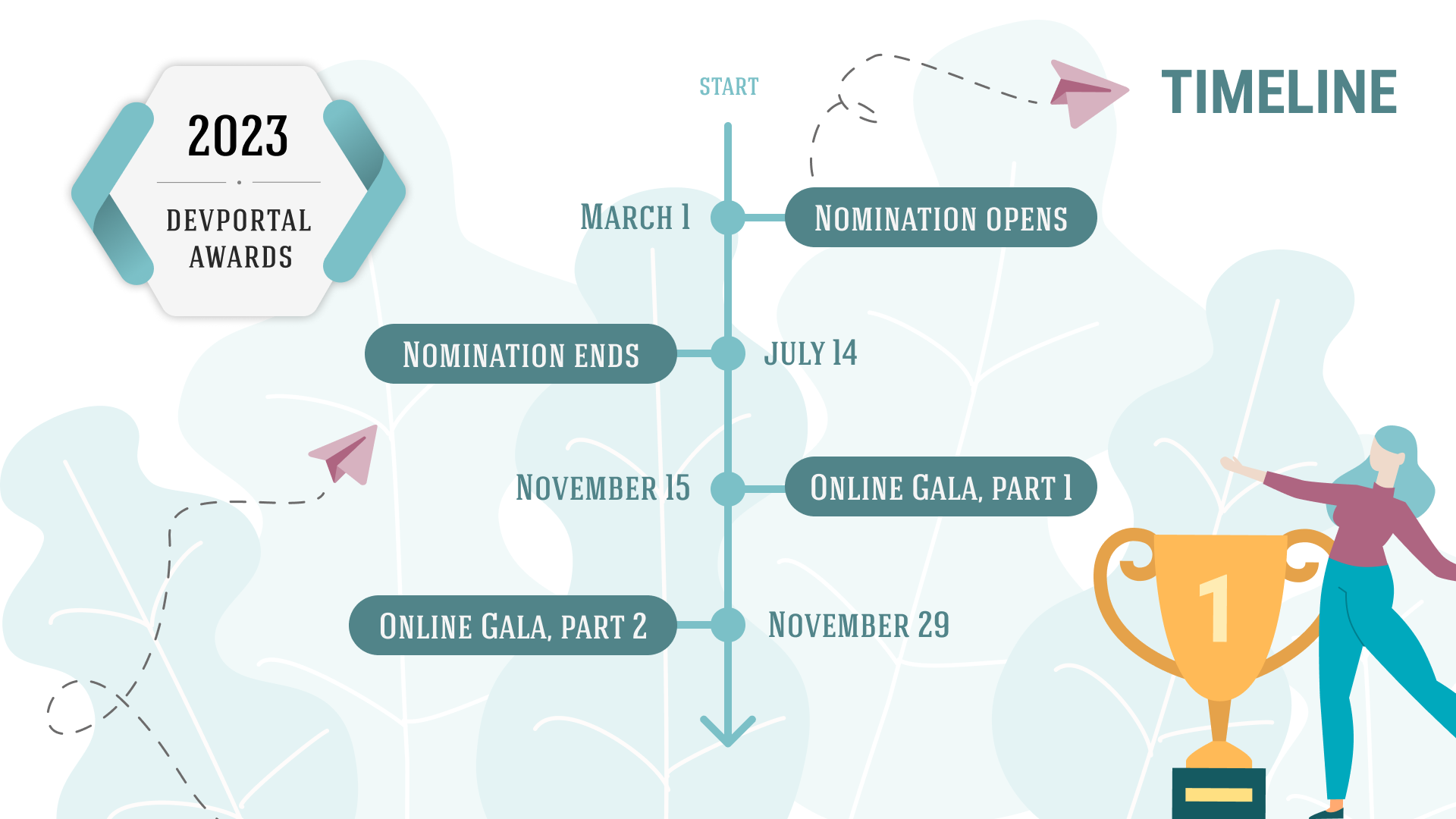 Enter the Best Overall DevPortal Award that fits you!
Overall excellence of DevPortals is celebrated with the Best Overall Award.
Entry is automatic for all DevPortals nominated to the Best-in-Class awards with an additional requirement that the team(s) behind the developer portals submit a form questionnaire that walks through why they stand out. The DPA Organizing Committee will share the form via email after the nomination is submitted.
The information collected will be provided to the Jury who ultimately makes the decision on who takes home the title of "Best Overall DevPortal".
From our past years experience, we recognize the differences in not only requirements but the amount of resources that go into a DevPortal built for enterprise or SME businesses. For this reason, from 2021 we will present an award for Best Overall Enterprise DevPortal and for Best Overall SME DevPortal.
We say good-bye to the Community Prize
In 2023, DevPortal Awards will not open public voting, therefore we will not announce a winner in this category.