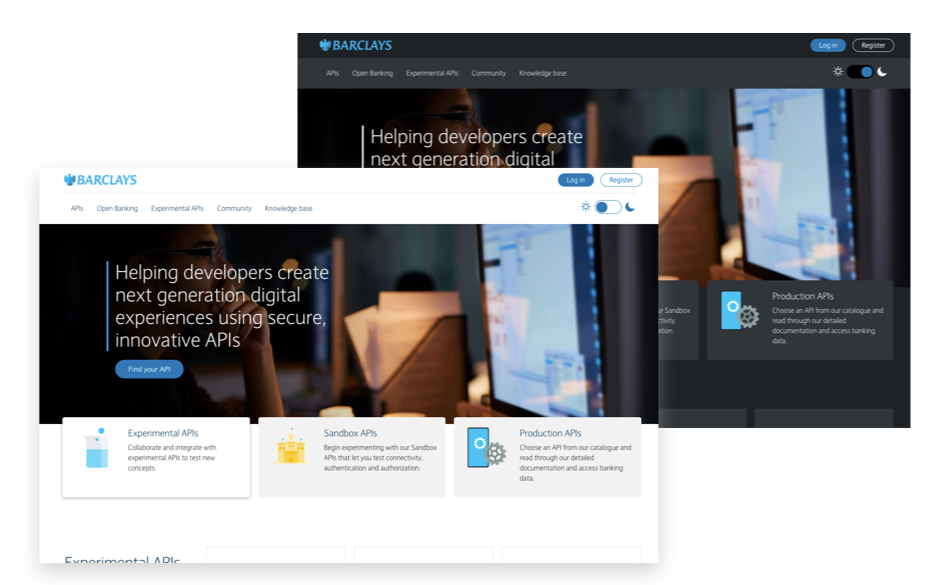 Introduction of the portal
Barclays was built over centuries. Our longevity is an extraordinary achievement, especially against the backdrop of multiple financial crises, international conflicts, and the agricultural, industrial and now technological revolutions. We have built a world-class API Exchange to serve a new growing community of digital first businesses. The API Exchange is a global API platform empowering communities of businesses, developers and innovators by providing secure access to new products via APIs. We are continuously making improvements to the API Exchange based on developer feedback and research. In 2020 we have introduced Barclays first dark mode website along with restructuring and improving the API catalogue. In addition, we have revamped the technical documentation, overhauled the developer dashboard and introduced a new support model to provide a flawless developer experience, against a backdrop FCA regulations.
Why nominated
Best Design
Building a world-class API Exchange to appeal to a rapidly evolving developer community can be challenging against a backdrop of centuries in traditional banking. To overcome these challenges, we place a huge emphasis on user experience and our design is continuously validated and iterated through research.

Following feedback received last year on the consistency of the API Exchange we recognised a number of disjointed developer experiences within some journeys. As a result, we have revamped the technical documentation, overhauled the dashboard and introduced a new support model to provide a flawless developer experience. Feedback also suggested the API Exchange was perhaps too 'Corporate Bank'. To connect more closely with the developer community, we have revamped all pages to ensure a consistent experience along with the introduction of dark mode. This is the first Barclays website to have a dark mode and reflects the importance of the developer community and the API economy.
Best Accessible Devportal
Accessibility at Barclays means we ensure that we provide products, services or employment regardless of peoples circumstances, situations, or abilities. We don't want to unintentionally leave anyone out or behind. Focusing on accessibility and inclusive design is at the heart of how we operate. This extends to how we design and develop the API Exchange ensuring we provide a
great developer experience.
Building on the success of our award last year, we've continued to make great progress and are incredibly proud of the work we've done on the API Exchange in 2020. This includes revamping the journeys to ensure a seamless developer experience along with introduction of dark mode whilst maintaining our world class accessibility standards.
Best Developer Dashboard
During 2020 we've redesigned the API Exchange dashboard to improve the creation and management of Apps enabling a faster journey to the first API call. In addition, we have introduced a new support model to improve the experience for the developer community when requesting assistance. We're required to make changes to comply with FCA regulation which can
sometimes create additional steps and challenges for developers. By considering the concepts developers are familiar with and how they utilise the API Exchange, we have enhanced our developer dashboard to remove friction and provide a seamless experience.
We are passionate about providing high-levels of service to developers. To continuously improve this, we have introduced a new support feature so developers can raise tickets where help is required. This feature is supported with a dedicated team assisting developers to quickly integrate with the APIs and building strong developer relationships.
Nominated in these categories