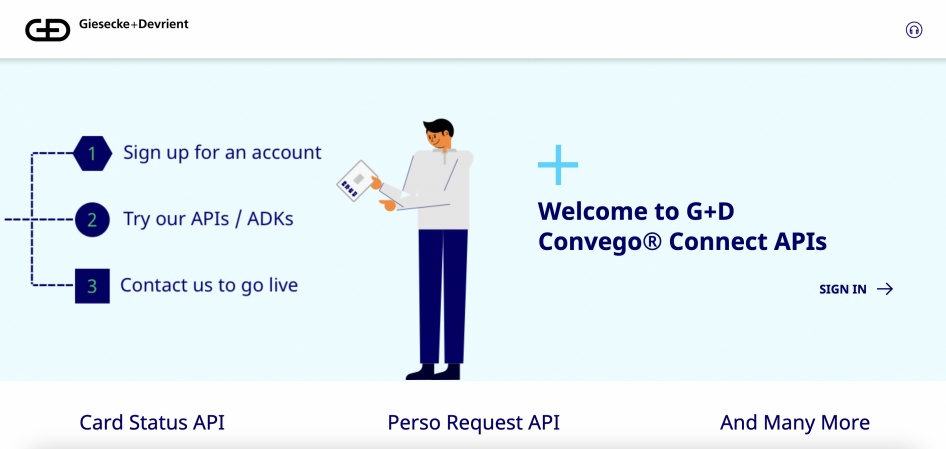 Owner
Giesecke+Devrient Mobile Security GmbH
Introduction of the Portal 
The rapid digitalization of banking services has lead to increasing expectation for speed and personalization of payment cards for end-users. This has also significantly raise the bar for payment providers in terms of agility, relevance and quality.
G+D Convego® Connect APIs is a comprehensive API-based Devportal platform which allows our customers in discovering a new world of Card Issuance and Digital Payment banking solutions. Our aim is to provide simple, easy and seamless API-integration solutions to ensure that our customers and partner institutions can keep up with the changing expectations of their end-users and also, stay ahead of them.
Our platform is securely hosted in the cloud and all solutions provide connectivity to our 20+ global perso bureau sites. We work closely with our customers to deliver the right set of APIs / SDKs - so that we can revolutionize the Card Issuance services and payment solutions: right from the time a cardholder places an order for its card, to providing real-time card delivery status, activation, usage and renewal process.
Why nominated
Best Developer Dashboard:
We nominated our Dev Portal for this category because we want our customers to have a single access to their API keys, as well as other onboarding-related documents and approvals without the need to go through any lengthy manual processes.
Best use of API Gateway Integration:
Card Issuance services can have one of the most complex, lengthy and complicated processes within the Financial and Banking industry. It can take months and even more than a year to launch a successful card program. At G+D, we work together with a global-mindset approach in solving these pain problems - keeping security at its top priority. For these reasons, we have designed our secure globally-accessible API Gateway in a way which allows our customers to seamlessly integrate with our solutions and also, gain access to all our G+D Perso bureau sites globally - thereby launching and managing their card program effectively.
Best use of Monetization:
Our API programs are designed with focus on solving our customers current problems as well as allowing them to create new business ideas and use-cases. So our monetization process is designed according to their needs and as per the functionality of their card programs.
Best Internal Devportal
At G+D, we adopted a mindset to design our APIs in a way which should be able to integrated - both by other internal teams as well as our customers and partners. Due to the complexity of certain use-cases, it is important that our Devportal can also serve internal teams across all our global sites because certain APIs are needed to be integrated within individual perso bureau sites.