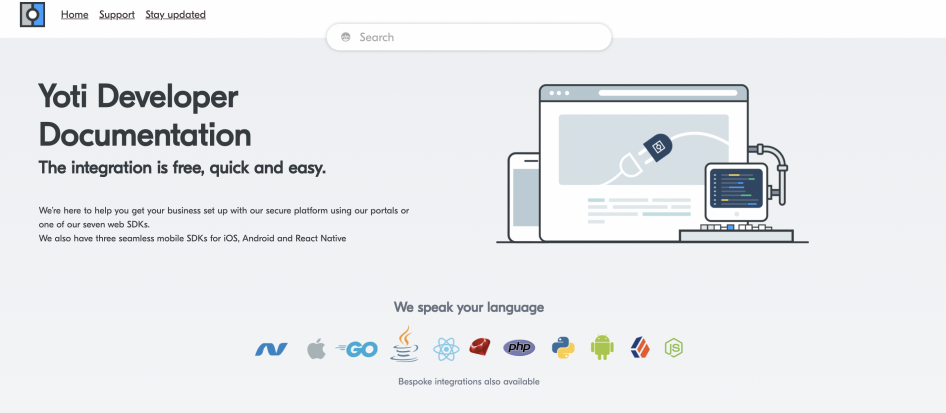 Introduction of the Portal 
In the last 4 years, Yoti has evolved from one product to six,  with multiple services that span innovative identity verification and authentication technologies. Our products are incredibly sophisticated but we've tried to make the integration experience as easy as possible, with clear documentation and simple APIs, SDKs and web portals.  We're constantly expanding our product suite and integration ecosystem, which means we're always iterating and improving our developer portal to make the integration experience as straightforward and straight-talking as possible. One of our founding ethical principles is to make Yoti available to everyone, and we work hard to make our developer documentation as accessible as possible to empower developers of all levels to integrate our products independently. 
Why nominated
Yoti has created an integration ecosystem for developers of all ranges to integrate six complex products simply. Yoti supports web and native integrations and consists of a simple API to get live in a few simple steps. To make the integration easier we have developed top class SDK's which wrap our complex API's into a simpler form.
For teams with no technical resource, we have also developed no-code web portals for our identity verification solution and our eSigning solution. These were inspired by work driven by our social purpose strategy in the Global South, which highlighted the need to get innovative technology to frontline workers with little technical knowledge. The web portals have not only made our products more accessible for smaller organisations but they also give clients a way to try out our technology before integrating.
Yoti provides:
Step-by-step guides describing how to integrate.
Code snippets in each supported coding language.
Example projects which are click-and-play.
API references.
SDK integration guides.
In depth videos for portal users.
Service disruption pages.
Release notes.
Sandbox environments.
Technical support.
Our goal is to ensure a developer of all levels can seamlessly integrate our products without the need of a support engineer. That said, if at any point the developers need assistance, we have a great support team to assist with just technical queries who receive excellent feedback. We recently changed the design, content and structure of our documentation and are continually improving the portal based on feedback that we ask for from our integrators.