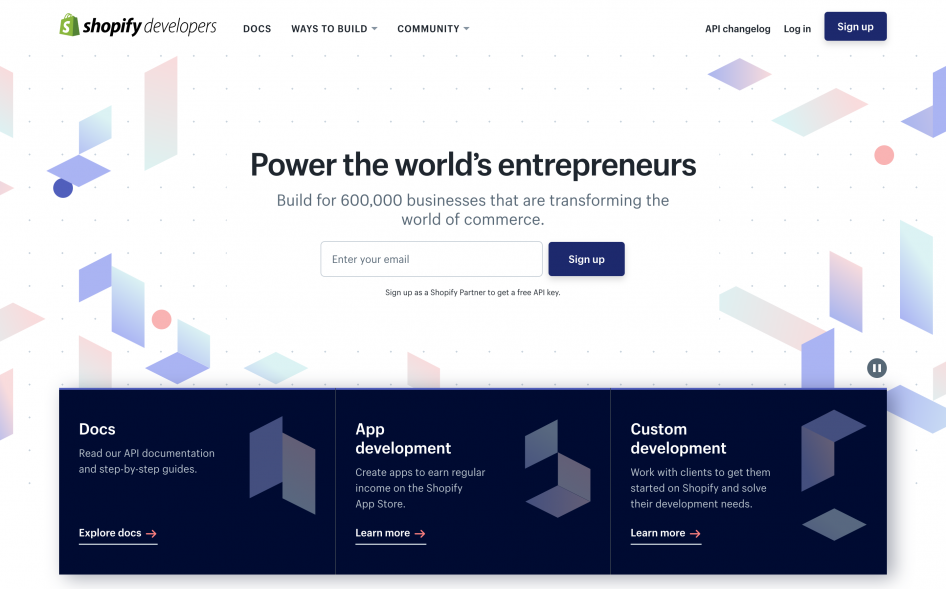 Introduction of the portal
Shopify developers is at the top of Shopify's app supply funnel and is the first formal communication channel with new developers. It is the primary tool by which Shopify establishes developer brand, outlines the opportunity that the platform offers, and signs up those who are inspired. The portal is also the entry point to later stages in the developer experience including onboarding, API reference documentation, and guides.
Why nominated
"Shopify developers has a number of strengths across the nomination categories:
-Creates a memorable and shareable value proposition that attracts new developers
-Provides specifics on the opportunity from a monetary and technical perspective to developers who may still be questioning the value of building on Shopify
-Provides actional inspiration to help move potential developers into the ecosystem through sign-up
-provides timely and appropriate links to Getting Started, API reference documentation, and other Docs."
"I love the design of the new Shopify Developer portal. It clearly explains the opportunity for new developers and includes inspirational videos from developers in the community. The documentation is solid and easy to work with and the support teams are super helpful. In general, the Shopify community is really strong and I love being a part of it."
"Shopify's developer portal is very inspiring! I appreciate how upfront and open they are about how much developers are making on their platform, and how easy it is to find docs around what to build with their APIs. Also, I like that they feature actual developers in their program on the portal. Hearing from real developers, and not just the company, makes me want to check-out their developer program."